Live Local Music
Groovin' in New Fairfield supports and encourages local live music. Use the links below for further information about additional places to experience live music.
North Salem Folk Circle
http://circleoffriends.scriptmania.com/custom.html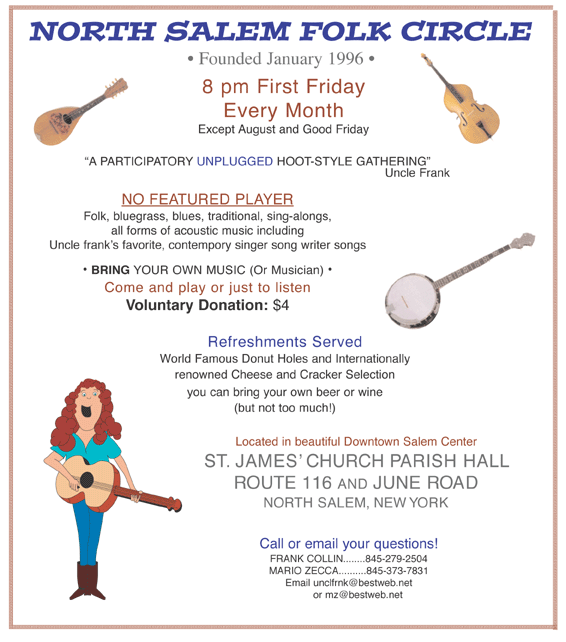 Sherman Song Swap
http://circleoffriends.scriptmania.com/custom3.html
4th Friday of every month (except December)
Grab your instrument and voice and join friends and neighbors for traditional & contemporary folksongs, bluegrass, blues, swing, and all acoustic styles
All levels of songsters welcome — from beginner to professional

Come to play or listen
Refreshments served, voluntary donation

Sponsored by The Sherman Library
1 Sherman Center– Sherman, CT 06784
Information
Bill 860-355-2674
Al 860-355-1907
Acoustic Celebration, Temple Shearith Israel, 46 Peaceable St. Ridgefield
The Acoustic Celebration is a series of once or twice monthly primarily Sunday afternoon concerts that run from September through May. These performances start at 4:00 and feature some of the finest contemporary acoustic singer/songwriters. http://www.acousticcelebration.org/content/home
Chirp, Ballard Park, Ridgefield Connecticut
Concert Happenings in Ridgefield's Parks (CHIRP), a series of free Summer concerts in Ballard Park located in the heart of Ridgefield. 7:00 p.m. Series co-sponsored by The Town of Ridgefield through the Parks & Recreation Dept. & The Ridgefield PRess. In the event of inclement weather concerts will be held at the Ridgefield Playhouse. Call 431-2760 after 4:00 p.m. on concert days to confirm location. www.chirpct.org
Folknotes
Folknotes, the monthly publication of The Sounding Board: Not only does this completely volunteer group of nice people run a wonderful series of coffeehouses in West Hartford, they also publish this exhaustive listing of acoustic music (including Groovin) throughout the state of Connecticut. folknotes.org
Connecticut Folk
Based in New Haven, CT Folk is dedicated to traditional and contemporary roots music and to caring for the Earth. CT Folk promotes local and international artists and supports the development of new music. CT Folk is the presenter of the annual Connecticut Folk Festival and Green Expo, the largest folk festival in the state, as well as the First Fridays concert series that runs October through May.  www.ctfolk.com.