Steve James with Elizabeth Kemler and Dave & Emma Hart
Doors open at 6:45 P.M. Show starts at 7:30 P.M.
All seats $10
New Fairfield Senior Center, 33 Rt 37, New Fairfield, CT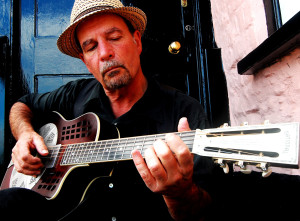 Steve James
STEVE JAMES is a blues musician, a notable songwriter (Talco Girl, Farewell The Roses, Sonny Payne, Birmingham Steel to name a few), one of the best modern bottleneck slide players, a storyteller and a compendium of interesting facts. In the  world of contemporary acoustic and roots music, he's earned his reputation with decades of tireless international touring, a stack of solo recordings, a funny, kinetic stage presence and an unmistakable style of playing and singing.
His own recordings engage with other top notch musicians- Cindy Cashdollar, the Bad Livers, Alvin Youngblood Hart, Del Rey and a host of others.  As a sideman, both on stage and on record, he's played with Howard Armstrong, Bo Diddley, John Hammond, Maria Muldaur, Furry Lewis and James McMurtry…he often gets a shout-out to "get on up here" from the likes of Tommy Emmanuel, Hot Tuna or Chip Taylor.  Hehas appeared on "A Prairie Home Companion",  "Austin City Limits Live", "NPR Morning Edition" and many other syndicated broadcasts worldwide. www.stevejames.com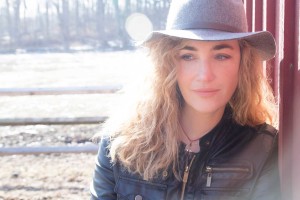 Elizabeth Kemler
ELIZABETH KEMLER Singer/songwriter, educator, and activist Elizabeth Erin Kemler, is an intrepid storyteller, equally passionate about affecting social change as she is about crafting engaging songs. On her recently released album,The Weight of Mortal Skin, she traverses the rocky terrain of the human heart through a luscious blend of country, folk, and roots.  With a rich, chocolaty voice, and unwavering emotional intensity, Elizabeth shares stories of anguish and aching, revelation and deliverance–the songs feeling at once deeply famiiar, and wholly new.  elizabetherinkemler.com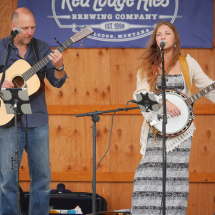 Dave and Emma Hart
DAVE AND EMMA HART Father/Daughter Americana duo Dave & Emma Hart released their debut record Hold On in late 2013. Reaching near the top 100 on the AMA (Americana Music Association) charts, the record received rave reviews from Bluegrass Unlimited, The Aquarian and others. Mike Greenblatt at The Aquarian wrote, "The six tracks of Hold On—the sweet self-released debut of Dave & Emma Hart—slide down like a summer salad and feels so good in doing so. I'm already looking forward to their full-length debut, as everyone I've played this thing for, from fans of pop to fans of folk, has loved it." Hold On was produced by Emma's fiddle idol Jim Van Cleve, and features a line-up of Nashville heavyweights including Bryan Sutton, Byron House, Kenny Malone and Jeff Taylor.  During the sessions Byron House commented how much it reminded of him of tracking the Nickel Creek records, with was perfectly fine with Dave and Emma, whose blend of bluegrass and Americana is heavily influenced by artists like Nickel Creek, Sarah Jarosz and Crooked Still.  Their sophomore record is on schedule to release in Spring 2018.Dave and Emma began their musical partnership early on, when Emma was 4. As an award-winning commercial composer and guitarist, Dave was naturally thrilled when his 3-year-old expressed an interest in the violin. Beginning her training with the classical Suzuki method, Emma soon discovered bluegrass, so it didn't take long before dad and daughter were ripping fiddle tunes for enthusiastic audiences, and Emma was piling up fiddle competition ribbons.  Bluegrass legend Tim O'Brien heard Emma when she was 11 and proclaimed, "she's one of us". Emma was awarded the Berklee Mark O'Connor Scholarship and the Grey Fox Bill Vernon Memorial Scholarship before she went on to study jazz performance at McGill University. Now 23, Emma resides in Asheville, NC. Dave continues to record and produce records at his Stamford, CT studio www.daveandemmahart.com
Enjoy a moderately priced dinner catered by Bruno's Restaurant before the show. Choices include: Eggplant Rollatini, Chicken Francese, Pizza, Coffee, Tea, Hot Mulled Cider, Water, and Homemade Desserts
Advance Tickets can be purchased at the NF Sr. Center (203-312-5665) or by mail. Payments made by mail should be payable to Groovin in New Fairfield, and sent to GINF c/o New Fairfield Sr. Center 33 Rt.37 New Fairfield, CT 06812 Please allow sufficient time when mailing. All Sales Are Final.
For additional information contact us at: grcoffeehouse@gmail.com