Suzie Vinnick with special guest Steve Kirkman
Doors open at 6:45 P.M. Show starts at 7:30 P.M.
All seats $10
New Fairfield Senior Center, 33 Rt 37, New Fairfield, CT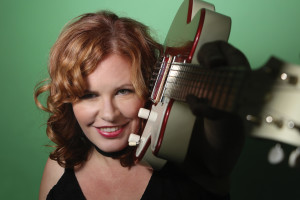 Suzie Vinnick
A Saskatoon native transplanted to the Niagara Region of Ontario, Suzie Vinnick is the proud owner of a gorgeous voice, prodigious guitar and bass chops, and an engagingly candid performance style.
Her career has seen triumph after triumph. Among her most recent successes: being nominated for a 2018 Canadian Folk Music Award for Producer of the Year with herco-producer, Mark Lalama.  Suzie achieved finalist status in the Solo/Duo Category at the 2013 International Blues Challenge in Memphis, TN; received the 2012 CBC Saturday Night Blues Great Canadian Blues Award and the 2012 Sirius XM Canada Blues Artist of the Year. Suzie has won 10 Maple Blues Awards (she has been nominated for 22 so far!), won the 2011 Canadian Folk Music Award for Contemporary Vocalist of the Year and is a 3X Juno Nominee.
Suzie has toured nationally with Stuart McLean's The Vinyl Café and the John McDermott Band, and performed for Canadian Peacekeepers in Bosnia and the Persian Gulf. She was also the voice of Tim Horton's for 5 years.
Suzie has just released her latest album, a full-band roots and blues extravaganza entitled Shake The Love Around.
Steve Kirkman
The first music I recall hearing was Jailhouse Rock and the sound of my daddy's motorcycle running in the garage.  Those mellow gospel harmonies of the Jordanaires and the loud rumble of straight pipes crashing together seemed to form a kind of personal anthem of rebellion and independence, one that I would not only find comfort in, but spend a lifetime searching for a connection to that sound and the feeling it created.
     I can't remember the actual event that put a guitar in my hands, only my mother sitting in the car outside of Harris Music Co. waiting for me to finish my lesson. I guess I learned enough there that in my early teens I formed my first band with a cousin and played basement parties, battle of the bands, and even some churches. Though it didn't last, it gave me a taste of something that I would always hunger for more of.  That hunger eventually grew into an unrelenting pain that began to cast a shadow of dissatisfaction over everything I did. Then one black night, on an old back road through the woods, it brought me to my knees, and to the realization that I had to try and reconnect to those early feelings.  In what now seems like a daze, I sold what I could of my old life for some traveling money and then, with just my car and a guitar, quietly rolled out of town.
    It took me over fifteen years to go from a rural North Carolina farm to New York City. One of the reasons it took so long is that I love to drive long distances.  Another reason is I took the scenic route.  A route that would take me for stints, some long, some short, to various cities and towns around the country.  My first stop would be Music City, Nashville, Tennessee.  Following the footsteps of some of my music heroes like Johnny Cash, Waylon Jennings, Kris Kristofferson, and Emmylou Harris, I found a place to begin.  Nashville can be hard and cold or gentle and warm and I guess if you're lucky you get to experience them both.
      I cut my teeth as a songwriter riding the fringes of Nashville's underground music scene and playing the unlimited number of writers' nights in and around the city. But it wasn't long before the transparency of Nashville's mainstream music became shamefully obvious and an appetite for something real led me to Beale Street in Memphis.  There I learned the difference between a life informed by music and music informed by life, and though I knew the latter would be harder and less certain, it was just too powerful to deny.
     So for the next ten years I set my sights on the open road and anything that might keep me on the edge of life, informing the songs I was writing.  That came to include numerous road trips cross country,  exploring parts of Utah, Nevada, California, most of Arizona, New Orleans, and after settling in New York City, several of the northeastern states.
     In New York, I embraced the city life and found very different inspirations, and a fresh new creative energy. Within the first year I had formed a band called the Mystery Train and was playing in the city at The Marquee, The Bottom Line, Town Hall, The Roadhouse, and opening for Richard Thompson, Ritchie Havens, John Kay and Steppenwolf, Jefferson Starship, Procol Harum, and Roger McGuinn. I even dove into the world of theatre and film and have been able to incorporate my music into that work as well.
I moved just north of the city  in 2000 to an area in Putnam County that reminds me a lot of the farm country in North Carolina where I grew up.
    The Hudson Valley is proving to be the richest area yet for musicians who are supportive of each other and for patrons who support independent music.  And Pete Seeger is just a few miles down the road.
     Life's journey and the things we discover along these roads we travel seem to be the things that have kept my interest all these years. So as I begin each new chapter of my journey I find myself listening again for those sounds that first inspired me and seem to remain always as close as my memory.
Enjoy a moderately priced dinner catered by Bruno's Restaurant before the show. Choices include: Eggplant Rollatini, Chicken Francese, Pizza, Coffee, Tea, Hot Mulled Cider, Water, and Homemade Desserts
Advance Tickets can be purchased at the NF Sr. Center (203-312-5665) or by mail. Payments made by mail should be payable to Groovin in New Fairfield, and sent to GINF c/o New Fairfield Sr. Center 33 Rt.37 New Fairfield, CT 06812 Please allow sufficient time when mailing. All Sales Are Final.
For additional information contact us at: grcoffeehouse@gmail.com