Cliff Eberhardt Performance & Workshop with special quests Sarah Blacker & Cadence Carroll
Doors open at 6:45 P.M. Show starts at 7:30 P.M.
All seats $10
New Fairfield Senior Center, 33 Rt 37, New Fairfield, CT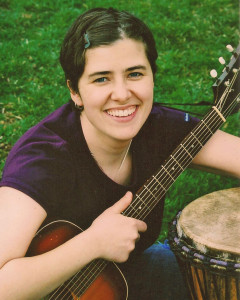 Cadence Carroll
Cadence Carroll grew up surrounded by music. Her mother, who was a music teacher and taught while she was pregnant, claims Cadence got her sense of rhythm from nine months of listening to guitar playing while in the womb. Although Cadence's first instrument was the violin, she quickly moved to guitar lessons taught by her mom in the basement of their home in Norwalk, CT. In college in Ithaca, NY, she fell in love with the sounds of African-Cuban percussion. There she found a passion and natural affinity for accompanying fellow musicians on the djembe, a large African hand drum.
In addition to performing, Cadence's love and affinity for teaching shines when she has the opportunity to share drumming with others.  She regularly facilitates workshops in African Drumming, Percussion, and Accompaniment at Summersongs and Wintersongs songwriting camps at Ashokan in Olivebridge, NY, and other private venues.  She teaches workshops and private lessons out of her home in Newtown, CT.  Cadence believes that drumming heals the body, mind and spirit and welcomes the chance to share the joy with all!
Sarah Blacker
Blacker grew up listening to her parents record collection which now sits stacked lovingly in her apartment. Paul Simon, The Beatles, America, and CSNY all formed the foundation of her musical consciousness. Teenage rebellion and discovery led to her love of alternative rock and the prominent and powerful singer/songwriters of the the nineties. Sarah then attended Boston's acclaimed Berklee College of Music seeking to expand her abilities as a performer and songwriter. She graduated as a Board-Certified as Music Therapist with a vision to save the world one song at a time.
Sarah Blacker was named 'Female Performer of the Year' at the New England Music Awards, 2013, and nominated for 'Songwriter of the Year' in the Boston Music Awards the same year. In 2014 she was nominated for song, and songwriter of the year at the New England Music Awards. She has toured extensively and shared stages with dozens of internationally renowned artists including Mishka, Carbon Leaf, America, Richard Thompson, 10,000 Maniacs, Paula Cole, Rusted Root, Leon Russell, and many others.
Cliff Eberhardt
Cliff Eberhardt knew by age seven that he was going to be a singer and songwriter. Growing up in Berwyn, Pennsylvania, he and his brothers sang together and their parents played instruments. His dad introduced him to the guitar and he quickly taught himself to play. Fortunate enough to live close to the Main Point (one of the best folk clubs on the East Coast), he cut his teeth listening to the likes of James Taylor, Joni Mitchell, Bruce Springsteen, Howlin' Wolf, Muddy Waters, Bonnie Raitt, and Mississippi John Hurt — receiving an early and impressive tutorial in acoustic music. At the same time, he was also listening to great pop songwriters like Cole Porter, the Gershwins, and Rodgers and Hart, which explain his penchant for great melodies and clever lyrical twists.
At fifteen, Cliff and his brother Geoff began touring as an acoustic duo, playing the Eastern club circuit until Cliff turned twenty-one and moved to Carbondale, Illinois. There he found space to develop his own voice within a vibrant and supportive music scene that included Shawn Colvin. After a couple of years there and a short stay in Colorado, Cliff moved to New York in 1978. Because the clubs were great (the Bitter End, the Speakeasy, Kenny's Castaway, Folk City) and the company amazing (John Gorka, Suzanne Vega, Lucy Kaplansky, Julie Gold, Steve Forbert, Christine Lavin, and Shawn Colvin), New York was an ideal musician's boot camp. Though he put in long hours as a taxi driver, Cliff worked steadily on his music throughout the 80's, doing solo gigs and studio work, and playing guitar on the road with Richie Havens, Melanie and others. Singing advertising jingles for products like Coke, Miller Beer and Chevrolet ("The Heartbeat of America" campaign) allowed him to devote more time to his songwriting.
Cliff Eberhardt Workshop Sat 9/26 from 2:00-4:00
Are you a beginning guitar student looking to improve your skills?  Or a seasoned player needed inspiration to take it to the next level?  Groovin' in New Fairfield is proud to offer an incredible opportunity to spend an afternoon with one of today's guitar heros, Cliff Eberhardt.  On
Saturday, September 26
, from
2-4pm
at the New Fairfield Senior Center (33 Rte 37, New Fairfield, CT),  Cliff will offer a small group guitar workshop which will allow participants to bring in a song, and have Cliff break it down into its simplest form and determine if the songs needs a solo, intor, outro, different guitar voicing, bass parts or fills.  With Cliff's vast expertise and sharp wit, you will be guaranteed an entertaining afternoon that will change the way you play guitar.   Fee is $40 . Space is limited, so please contact Stacey Cohen at
staceyc6362@gmail.com
or call
914-263-4487
.
Enjoy a moderately priced dinner catered by Bruno's Restaurant before the show. Choices include: Eggplant Rollatini, Chicken Francese, Pizza, Coffee, Tea, Hot Mulled Cider, Water, and Homemade Desserts
Advance Tickets can be purchased at the NF Sr. Center or by mail. Payments made by mail should be payable to Groovin in New Fairfield, and sent to GINF c/o New Fairfield Sr. Center 33 Rt.37 New Fairfield, CT 06812 Please allow sufficient time when mailing. All Sales Are Final.
For additional information contact us at: grcoffeehouse@gmail.com