Doors open at 6:45 P.M. Show starts at 7:30 P.M.
All seats $10
New Fairfield Senior Center, 33 Rt 37, New Fairfield, CT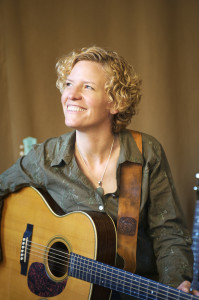 Catie Curtis
CATIE CURTIS' list of accomplishments spans 14 albums, songs featured on TV shows "Grey's Anatomy", "Dawson's Creek", and "Felicity"; and movies like "Finding Graceland" and "A Slipping Down Life". For over 25 years, she has been a perennially popular headliner, appearing at Lilith Fair, Carnegie Hall, performing arts centers, concert halls, folk clubs, music festivals and the White House! She was even dubbed a "folk rock goddess" by The New Yorker. Curtis grew up in Saco, Maine and played trombone and drums in the school band. When she saw Suzanne Vega while attending Brown University, she thought "This is it; this is what I want to do".  Rolling Stone wrote, "With her deceptively gentle voice, she can turn on a dime and thrill the listener with unforeseen power and emotion. Intricate acoustic picking sometimes recalling Joan Armatrading…but Curtis is very much an original."
Catie looks forward to hitting the road with her new recording, "While We're Here".  She has announced that this will be her last tour, dubbing it "The Final Outing". She will take one last road trip across the USA and beyond in 2017. While the concert stage has sustained her long career, Catie is finally giving in to her nesting instinct, saying "The themes of 'While We're Here' involve endings and beginnings, change and resilience. After 25 years on the road I am ready for my own new beginning." www.catiecurtis.com
Mike Herz
MIKE HERZ writes and performs in a style that is all his own.  A man of words, Herz was fond of writing poetry and was drawn to lyrics. He picked up the guitar in his mid- 20s, a little after he was introduced to the music of Bob Dylan through a friend. "I just realized that I had a better chance of people listening if it was to a song, rather than just telling people to read a poem." At the same time, the music on mainstream radio sounded inauthentic to him, and he discovered a body of independent artists who produced powerful, poignant songs that resonated with him. "I thought, this is what I want to do.  His debut album "Overgrown" was released in 2013, duo album "Closer to Home" with Emily Barnes in 2015 and his follow up solo album "The Acrobat" was released in January 2017.  www.mikeherzmusic.com
Enjoy a moderately priced dinner catered by Bruno's Restaurant before the show. Choices include: Eggplant Rollatini, Chicken Francese, Pizza, Coffee, Tea, Hot Mulled Cider, Water, and Homemade Desserts
Advance Tickets can be purchased at the NF Sr. Center or by mail. Payments made by mail should be payable to Groovin in New Fairfield, and sent to GINF c/o New Fairfield Sr. Center 33 Rt.37 New Fairfield, CT 06812 Please allow sufficient time when mailing. All Sales Are Final.
For additional information contact us at: grcoffeehouse@gmail.com