Groovin' In New Farifield Stages a Trifecta of Talent at the Coffeehouse on Sat. Nov 7th at 7:30
Doors open at 6:45 P.M. Show starts at 7:30 P.M.
All seats $10
New Fairfield Senior Center, 33 Rt 37, New Fairfield, CT
Opening for Griffin Anthony is Steven McGrath with Danny & Caroline
We've got an awesome line-up for you as we wrap up our Fall season of Coffee House Concerts.  So take a break from raking your leaves and put off planning that Thanksgiving meal for one night, then get yourself out to the Community/Senior Center Complex on Rt. 37 for what will be a great kick-off to the upcoming holiday season.
Our featured performer will be the handsome and talented singer/songwriter Griffin Anthony.  Legend has it that the 32 year old native New Yorker was riding a baseball scholarship at a Division 1 university (yes, yet another one), when a series of injuries began to make him re-think the idea that baseball might be his career path.  He completed his degree (in fact, he has three of them) and continued to play his music, a passion he had continued through adolescence and college until serendipity led to a publisher, having heard him play, contacted him and asked what he thought about writing for television or film.  "What….do you mean I could make a career out of this?" he asked.  Anthony's music now appears in all the Kardashian shows, America's Funniest Home Videos and Housewife shows as well as sots on ABC, NBC and E!Entertainment.
But Griffin loves to perform and that has led to him sharing the stage with a number of luminaries: James Taylor, Aaron Neville Dr. John an Don McLean.  The good news for us is that he loves to play smaller venues where he can interact with the audience.  And with that in mind, while he will be playing a number of venues throughout Fairfield County, I might suggest that the New Fairfield Coffee House could be one of the best places to catch this talented singer/songwriter on his current tour
Steven McGrath
Also performing will be Steven McGrath, a Connecticut native who grew up in Cromwell listening to his parents record collection, exposing him to a wide variety of musical genre and developing a deep and natural love for it.  He studied trumpet as a youth and became proficient on drums, piano and guitar…..but singing….that was where his true passion would lie.  And he realizes the expression of that passion by playing local venues throughout the Nutmeg State, and beyond.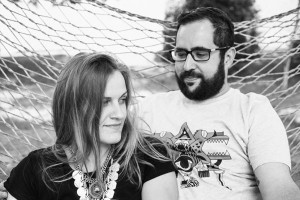 Danny & Caroline
Opening our show will be the folk/pop husband and wife duo Danny and Caroline, he on guitar and she on keyboard.  I have to say, hearing them for the first time caught me by surprise.  Their catchy melodies, and insightful lyrics are infused with hints of jazz, bluegrass, folk and soul.  Their performances are truly effervescent .  And you've got to do a You Tube search for them and catch their videos.  They are just full tilt fun!  I can't wait to have them on our stage.
As always, you can skip dinner at home and enjoy a moderately priced meal catered by Bruno's of Heritage Plaza.  There are home made desserts, and, yes….there's coffee.
Enjoy a moderately priced dinner catered by Bruno's Restaurant before the show. Choices include: Eggplant Rollatini, Chicken Francese, Pizza, Coffee, Tea, Hot Mulled Cider, Water, and Homemade Desserts
Advance Tickets can be purchased at the NF Sr. Center or by mail. Payments made by mail should be payable to Groovin in New Fairfield, and sent to GINF c/o New Fairfield Sr. Center 33 Rt.37 New Fairfield, CT 06812 Please allow sufficient time when mailing. All Sales Are Final.
For additional information contact us at: grcoffeehouse@gmail.com