Teddy Goldstein and Kat Spina, with special guest Mark Grossman
Doors open at 6:45 P.M. Show starts at 7:30 P.M.
All seats $15
New Fairfield Senior Center, 33 Rt 37, New Fairfield, CT
UPDATE: Per New Fairfield municipal mandate as of August 5, 2021,, masks are to be worn by everyone in indoor public places regardless of vaccination status.
Due to COVID capacity restrictions, tickets MUST be purchased in advance.  Tickets are $15 and payable by cash or by check made out to Groovin' in New Fairfield.  Please provide complete contact information (name, address, cell phone and email) with payment.  Tickets can be purchased at the New Fairfield Senior Center with cash or by check. Checks can be mailed to: Groovin' In New Fairfield, c/o New Fairfield Senior Center, 33 Route 37, New Fairfield, CT 06812.  To insure your reservation, mail needs to be received no later than September 29.   All sales are final.  For more information, contact us at 203-746-1142 or email us at grcoffeehouse@gmail.com."
Food will be available for sale from 6-8pm the night of the show by the Moonlight Mobile Kitchen food truck, which features the "Taco Road Trip" – a variety of tacos that come with chips, homemade salsa and fresh lime.  Menu and price list can be found at https://moonlightmobilekitchen.com/menu. With COVID precautions in mind pizza, along with a wrapped selection of desserts, and water will be available for purchase beginning at 6:45 when the doors open. Coffee and tea are free with ticket purchase.
TEDDY GOLDSTEIN
Teddy Goldstein is known as much for his clever songs – whether sensitive or comedic – as for his energetic and unpredictable shows.  In addition to his original music, his show includes a tribute to the Songs of Jim Croce.  When asked "Why Croce?", Teddy explains:  Growing up in the 70's, with an older brother and sister, all I heard coming out of their stereos was James Taylor, Jackson Browne, Joni Mitchell, Cats Stevens, Carol King, Carly Simon, CSN and of course, Jim Croce. As a little kid, his stories about truckers, pool hustlers, roller derby queens, and of course Bad, Bad, Leroy Brown were fascinating to me. I also loved his songs about yearning and missing love. But it wasn't until I began writing songs of my own that I realized just how incredible Jim Croce's music was. For me the crux of Croce is, saying so much, with so few words. Croce's songs are packed with wild images, funny stories and larger than life characters, all told in these perfect little 3-4 minute ditty's. I love having the opportunity to re-tell the songs of Jim Croce. Teddy Goldstein has released five albums and has been a signed writer over the years with Spirit Music Group and BMG Music Publishing.  He has been a staple on the New York City music scene for over two decades and has toured the country, sharing stages with such artists as; Todd Snider, Dan Bern, Steve Forbert, Melissa Ferrick, Marshall Crenshaw, and many others. He has performed at the Kennedy Center as well as, Kerrville Folk Festival, The Telluride Bluegrass Festival and The Newport Folk Festival.    Teddy's songs have been featured on numerous TV networks such as, NBC, CBS, The WB and his music inspired the movie, Buddy Gilbert Comes Alive, starring Elizabeth Moss, now streaming on Amazon Prime. He has also received a Gold Record in Europe for his song "Maria" which was the single for Marshall and Alexander's album, Lover's Forever.   Currently, Teddy is producing a new album of original music. He is a member of the group, Live From New York (LFNY) with his friends, Edie Carey, Anne Heaton & Andrew Kerr. A LFNY tour is booked for Spring of 2022.
KAT SPINA
The siren sound of Kat Spina's silky, heartfelt, expressive vocals have the power to captivate any audience. She's recorded two studio albums, Engaging the Muse and Chasing Shadows. Kat's new songs come from a collaboration with Grammy-winning producer Brian Forbes in Brooklyn, NY. These are songs of transformation, empowerment, love and loss. Her latest single is entitled "Our Secret".   Kat was interviewed by Andy Bale (WHUD NY 100.7) to promote the release "Play It Loud". She also won best music video for this song at Gorilla River's Music Video Film Festival. Kat performs locally and regionally in such venues as The Bitter End where she was a featured artist for the New York Songwriter's Circle.  www.katspinamusic.com
MARK GROSSMAN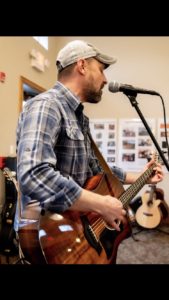 Mark Grossman has been playing guitar and finding songs for thirty years. He has way more melodies than he needs and is always struggling to find some decent words. Mark's songs explore moments and stories that are full of the complexities and simplicities of day to day life, personal identity, and relationships. In crafting his lyrics, Mark aims to make it possible for those listening to his songs to find themselves somewhere in the lines so that they own each song as much as he does. https://www.markgrossmanmusic.com